Rubery Owen helped to develop the Chairmobile
July 20, 2018
Rubery Owen has an extensive history. It started with John Tunner Rubery and his brothers in 1884 with a small steel construction business. Alfred Owen, a trained engineer joined the business in 1893 and Rubery Owen & Co was formed. The Rubery family retired from the business in 1910 and Alfred's two sons took over in 1930 and expanded the business, becoming one of the largest privately-owned companies in Britain in the 1970s.
Creating a reputable brand, the company was approached by some interesting and inspirational people along the way, including Lord Snowdon who designed and developed the first Chairmobile.
How it all started
In 1968 Lord Snowdon had an idea to "divorce completely the function of mobility from the function of sitting" by creating a motorised platform, which was to be used indoors and outdoors and practical for everyday life. Married to Princess Magaret, Lord Snowdon's concept to "power a platform which can be placed on any chairs that suit the social and/or physical requirement of the user," was to be known as the Chairmobile

No time to sit back and relax
The Chairmobile went through many developments from materials, electrical and mobility testing carried out in different environments, including schools, hospitals and home and on various floor types -with people who had different health complications including cerebral palsy, fractured cervical spine, brittle bones and more. It became clear after these tests the concept of the "Chairmobile offered an ease of mobility and independence never known before."
Pleased with his idea, Lord Snowdon wanted to make people aware of his innovation so he went to "writer and journalist Quentin Crewe, who had been disabled and in a wheel-chair for many years," who was intrigued about his idea.
As a practical designer, Lord Snowdon locked himself in his workplace at Kensington Palace for 3 days in 1968 to surprise Quentin. The surprise was "a platform on which a multiplicity of chairs would fit," with a removable steering platform made from wood.
Lord Snowdon wasn't even satisfied with his first effort and enlisted the help of a student at Hornsey College of Art, Bill Ritson. What followed was, in Crewe's words, "a second prototype out of something that looked to me like Meccano."
From there, Lord Snowdon and engineer John Holloway made the third and final prototype with a fibreglass base. Quentin Crewe was so overjoyed that he wrote about it in his column in the 'Sunday Mirror' about how his life had been transformed.
Where we helped to make history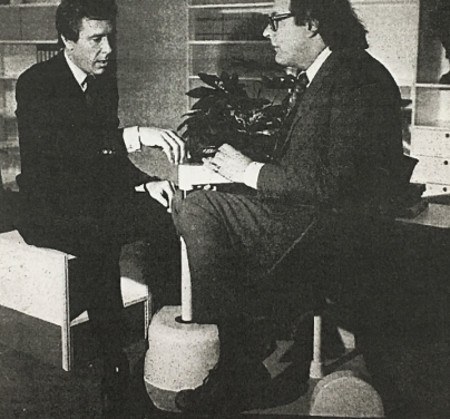 Delighted with what they achieved, Lord Snowdon and Quentin Crewe took their innovation to Alfred Owen, Chairman of Rubery Owen Group in the hope they would be able to manufacture the platformed chair. Prototype after prototype was produced by the engineering skills of Rubery Owen to ensure success and ensure all possibilities were covered.
After finalising the visual aspect, it was onto the practical apart, an engine. The original prototype was from a Japanese toy – Rubery Owen had to find one which was available in Britain. "The one eventually used was adapted from a lorry windscreen-wiper motor," as both Lord Snowdon and Rubery Owen specified it was not to be a "powered platform," due to the threat of it being taxed.
The International Publishing Corporation placed a substantial order for the Chairmobiles to make them readily obtainable at an affordable price. Quentin Crew said, "it is pleasant to think that the Chairmobile as it is today grew out of the first experimental wooden platform. Now thousands of handicapped people will have a chance to move around in a chair of their choice."
Today, more commonly know as a mobility scooter, there are now closer to 300,00 scooters being used in the UK according to the British Healthcare Trades Association.
< Back